Our state-of-the-art Dura-ABS™ DI Automated Direct Injection sprayer loading system is an AE50 winner for 2020 by ASABE's Resource Magazine, recognizing the best innovative new products produced in 2019. The award was presented at the 2020 National Farm Machinery Show.
The Dura Auto-Batch System DI (Automated Direct Injection) works by direct injecting herbicides into the carrier flow while filling the sprayer.   
DURA-ABS™ DI 
(Automated Direct Injection) – sprayer loading system
Don't mortgage the farm to automate your filling process!  Just upgrade your current 2″ or 3″ system.
The Dura-ABS DI Direct Injection Sprayer Filling System is the most cost-effective sprayer loading system on the market.  This chemical handling system reduces sprayer load time by up to 80%.  The system is automated, so the operator can multi-task.  It provides recirculation, so it maximizes chemical performance.  It simultaneously direct injects chemicals and is a closed fill system, reducing operator exposure to chemicals.  The Dura-ABS™ DI Direct Injection gives you a high return on your investment by maximizing the capacity of your existing equipment and reducing labor and machinery costs. 
By optimizing loading efficiency for narrow application windows, you can get a return on your investment in less than 9 spraying days.  In fact, the folks over at Sprayers101.com built a model to test the benefits of all of the elements of a spray operation that effect productivity.  They found that decreasing sprayer loading time was the winner as far as increasing on-field spraying time.  Read the article here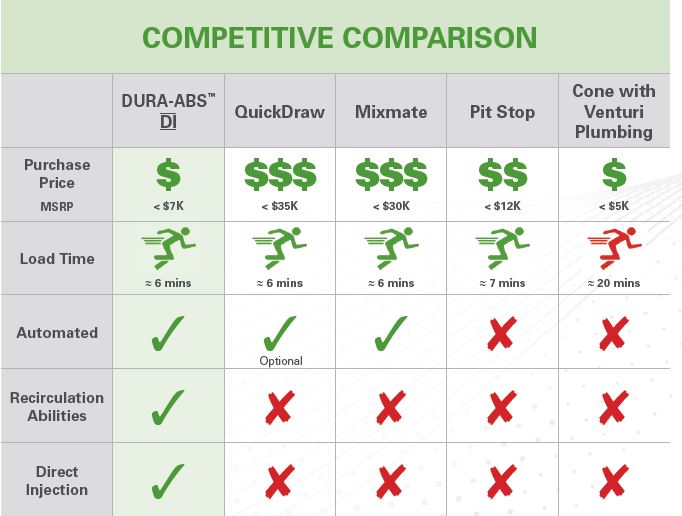 Competitive Comparison
This chart compares the Dura Auto-Batch System DI (Automated Direct Injection) to the QuickDraw, the Mixmate, the Pit Stop and a simple Cone with Venturi Plumbing system based on the following factors:
Purchase Price
Load Time
Automation
Recirculation Ability
Direct Injection Capability
Lowest cost automated sprayer filling system
Filling your sprayer has never been easier or faster
Reduces operator error and herbicide exposure
Provides recirculation, maximizing chemical performance
Accurately dispenses repeatable batches
Eliminates cross contamination
Dura Product Videos available at https://duraproducts.com/videos/
Example fill – 1,000 gallon batch size:  Filled in less than 5 1/2 minutes with 2″ plumbing
37.5 gallons of  SureStart
3.75 gallons Atrazine
25.0 gallons of Glyphosate
12.5 gallons of 2,4-D
How it Works
Select the volume desired
Press START
The pump will  begin to inject fluid then automatically shut off upon completion